Wangaratta Drone Services
Professional drone photography, video and mapping services for Wangaratta and surrounds
Wangaratta drone services
Wangaratta is major supplier of goods to Northern Victoria, and is a bustling hub of activity all year round. We serve the businesses that drive Wangaratta forward with our professional drone photography, video and mapping services.
With Wangaratta boasting steady population growth and a thriving industrial sector, there's a constant need for quality imaging. We support construction and trades, tourism and local government with our Wangaratta drone services.
Are you creating an online store? Have a new product you want to show off to your customers? Inspecting your assets? Planning a new property development? Whatever the project, we offer the advanced imaging solutions to make your plans a reality.
Promote your business, inspect your assets and display your latest products on time and on budget. With an impeccable safety record and nothing but positive reviews, our results speak for themselves. We're not happy unless our customers are.
Because we're local, we understand what businesses in the Wangaratta region need. Our fast turnaround times let you turn your ideas into reality within days. Give us a call today to find out how we can help your business grow.
We have a passion for taking great photos and video. With experience in drone and ground level shooting, you can look no further for promotional photos, video, events coverage and general photography. Our Wangaratta drone services have you covered.
Every business wants more customers. We'll work with you to create a whole solution. From concept design to final file delivery. Optimised for all of the popular online platforms (Facebook, Instagram and Youtube).
We work with government departments and universities. As well as all kinds of private businesses like cafes, car and truck dealerships, agricultural businesses, horse studs, vineyards, real estate agents, property developers and more.
We can provide georeferenced orthophotos and maps for all kind of projects. We serve every industry, from Agriculture to Architecture, to help them plan their projects with high resolution drone imaging.
Wangaratta drone photography, video, mapping and more
We service Milawa, Oxley, Glenrowan, Killawarra, Tolmie, Whitfield, Eldorado, Whorouly, Tarrawingee, Springhurst, Moyhu and surrounds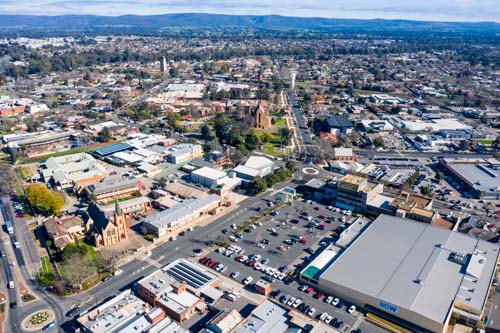 Testimonials
Capture the images you need
Call us and see how we can help you with your next photo, video, mapping or inspection project